As a member of the TECH-NET Professional program we agree to: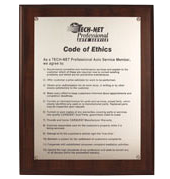 Recommend corrective and maintenance services and explain to the customer which of these is required now to correct existing problems and which are for preventive maintenance.


Offer customers a price estimate for work to be performed.


Obtain prior authorization for all work done, in writing or by other means satisfactory to the customer.


Make every effort to keep the customer informed about appointments and completion deadlines.


Furnish an itemized invoice for parts and services, priced fairly, which clearly identifies any used or remanufactured parts. Replaced parts may be inspected upon request.


Furnish or post copies of any warranties covering parts or service. Use quality Advance Auto Parts auto parts, guaranteed coast to coast.


Provide and honor Advance Auto Parts manufacturer warranties.


Exercise reasonable care for the customer's property while it is being serviced.


Make every effort to fix the customer's vehicle right the "first time".


Maintain a system for fair settlement of customer's complaints.


Cooperate with established consumer complaint mediation activities.


Uphold the high standards of the profession and seek to correct any or all abuses within the automotive industry.


Stopped in to get help with an 01 Dodge we are rehabbing, the guys are very nice and very helpful! Took care of my abs brake sensors that were melted in!
I had an amazing experience here at B & M! Both my mom and I had been having problems with our Toyota Priuses, this is the closest shop that works with hybrids but unfortunately we live about an hour and 15 minutes away. Boy am I glad that we drove this whole way! We arrived there as they opened and told them about the cars problems and stayed to chat for a while. Marty, the main mechanic mentioned how they had been operating with just two employees and the manager because everyone else had quit. Because of that they were unsure how soon they could get to my car. I wasn't super happy about that but I understood that it was out of their control. Because I was trying to leave shortly for the start of school, I really didn't have much time to waste, but again, they couldn't do much about it. My mom and I had about a days worth of errands to run around Knoxville so we told Marty that we would be around for that day in case they miraculously finished with the car. About an hour or two before they closed we got a call about the car. Unfortunately, my car was totaled, but because they were so fast with their diagnosis I still have plenty of time to figure out what to do as far as school goes. I would highly recommend coming here for your auto repairs. They were very considerate to my need for quickness even through their rough times, they were all very personable and I really enjoyed standing there listening to them talk, and so if ever I come back after college, they have gained themselves a customer for life. Thank you so very much Marty, Bob, and Gary.