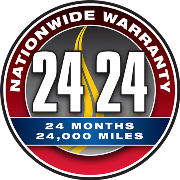 When you have service and repairs performed at a TECH-NET PROFESSIONAL AUTO SERVICE center, you're covered by a Worry-free Driving Nationwide Warranty. The Worry-free Driving Nationwide Warranty reaches across North America when you need it most providing vehicle protection on qualifying service and repairs. TECH-NET PROFESSIONAL AUTO SERVICE centers will protect your new car warranty and are committed to providing a successful and pleasant automotive service experience.

Our Warranty program covers most parts and labor for 24 months or 24,000 miles / 40,000 kilometers, whichever comes first when traveling more than 25 miles / 40 kilometers from the original TECH-NET PROFESSIONAL AUTO SERVICE repair facility.

In the event you need assistance on a warranty related repair when traveling beyond 25 miles / 40 kilometers from the original service facility, the warranty program administrator will direct you to the nearest in-network service facility to handle the warranty related repair. Ask for complete warranty coverage information and details on your next service visit.

Contact the Worry-free Driving Warranty Administrator toll-free at (866) 588-0728 and select option 1 for warranty service when outside a 25 mile / 40 kilometer radius from the original servicing location and in need of repair service.

Contact your local TECH-NET PROFESSIONAL AUTO SERVICE center for warranty terms and service inside a 25 mile / 40 kilometer radius of the original service facility.
Stopped in to get help with an 01 Dodge we are rehabbing, the guys are very nice and very helpful! Took care of my abs brake sensors that were melted in!
I had an amazing experience here at B & M! Both my mom and I had been having problems with our Toyota Priuses, this is the closest shop that works with hybrids but unfortunately we live about an hour and 15 minutes away. Boy am I glad that we drove this whole way! We arrived there as they opened and told them about the cars problems and stayed to chat for a while. Marty, the main mechanic mentioned how they had been operating with just two employees and the manager because everyone else had quit. Because of that they were unsure how soon they could get to my car. I wasn't super happy about that but I understood that it was out of their control. Because I was trying to leave shortly for the start of school, I really didn't have much time to waste, but again, they couldn't do much about it. My mom and I had about a days worth of errands to run around Knoxville so we told Marty that we would be around for that day in case they miraculously finished with the car. About an hour or two before they closed we got a call about the car. Unfortunately, my car was totaled, but because they were so fast with their diagnosis I still have plenty of time to figure out what to do as far as school goes. I would highly recommend coming here for your auto repairs. They were very considerate to my need for quickness even through their rough times, they were all very personable and I really enjoyed standing there listening to them talk, and so if ever I come back after college, they have gained themselves a customer for life. Thank you so very much Marty, Bob, and Gary.